We are currently recruiting members for the GSA's Committees and Subcommittees
Governance Committee
The Governance Committee provides oversight and advice to the President on the governance of the GSA, at the direction of the President, the Board, or GRC. This may include conducting an annual review of the GSA's bylaws, reviewing and updating GSA policies, and conducting a DGA bylaw review.
gov.gsa@ucalgary.ca
Reza Hedayati Majdabadi, 2022-23 Chair
Nneka JK-Onyeka, 2022-23 Vice Chair
Finance Standing Committee
The Finance Standing Committee (FSC) reviews the financial records and investments of the Association on a regular basis. FSC reviews the draft budget for the following financial year prior to GRC approval, and ensures that an annual audit of Association records is performed.
fsc.gsa@ucalgary.ca
Oscar Tejada, 2022-23 Chair
Cameron Armstrong, 2022-23 Vice Chair
Awards Committee
The Awards Committee adjudicates award applications and recommends the recipient of the GSA's awards, grants, and bursaries. This includes implementing a transparent process of developing the awards program, selection criteria, and evaluation procedures. The Awards committee has approximately 50 members.
awards.gsa@ucalgary.ca
Leah Mercier, 2022-23 Chair
Sai Sashank Jonnalagadda, 2022-23 Vice Chair
Cabrini DelCorro, 2022-23 Vice Chair
Academic Support Committee
The Academic Support Committee facilitates graduate student academic development opportunities and professional advancement. This is implemented through the organization of academic workshops, as well as the Peer Beyond Graduate Research Symposium.
academic.gsa@ucalgary.ca
Arkendu Banerjee, 2022-23 Chair
Amit Chaudhari, 2022-23 Vice Chair
Asma Bernier, 2022-23 Vice Chair
Student Experience and Events Committee
The Student Experience and Events Committee (SEEC) enhances the life and graduate school experience of GSA members at large at the University of Calgary through events, programming, and other initiatives. The Student Engagement and Events Committee oversees and leads the five SEEC subcommittees. This committee also acts as a consultative body for the VP Student Life.
sesc.gsa@ucalgary.ca
Sandesh Kharel, 2022-23 Chair
Farzaneh Ehtemam, 2022-23 Vice Chair
Subcommittees of the SEEC Committee:
The purpose of the GSA Gender and Sexuality Alliance ([GSA]2) Subcommittee is to enhance the life and graduate school experience of 2SLGBTQIAP+ (Two-Spirit, lesbian, gay, bisexual, transgender, queer, questioning, intersex, agender, asexual, aromantic, pansexual, and all gender and sexually diverse identities) GSA members through events. The subcommittee works to increase the visibility of gender and sexual minorities within the university and broader community.
gsa2.gsa@ucalgary.ca
Ariel Kim, 2022-23 Chair
Cassie Holmes, 2022-23 Vice Chair
Sustainability Committee
The Sustainability Committee functions to create a sustainable workplace and learning space for graduate students in order to enhance the overall graduate experience. The Sustainability Committee works to bring forth issues as well as opportunities related to sustainability, in order to integrate sustainable efforts into the University of Calgary. The Sustainability Committee partners with the Office of Sustainability (OS), graduate students, and University of Calgary partners to ensure its work is meaningful both for graduate students and within the larger realm of the University. Some of the works the committee does include host sustainability related trivia and educational events, workshop on Sustainability award in partnership with OS and hands-on sustainability related events such as growing your own plants, recycling. The works by the committee aligns with the university and United Nations' Sustainable Development Goals.
sustain.gsa@ucalgary.ca
Sandra Moses, 2022-23 Chair
Balakrishnan Dharmalingam, 2022-23 Vice Chair
Labour Relations Committee
The Labour Relations Committee (LRC), chaired by the GSA AVP Labour, exists to represent and support Academically Employed Graduate Students at the University of Calgary through education and advocacy. This includes but is not limited to collective agreement negotiations, the handling of disputes with employers, and advocating for a high standard of graduate student employment.
lrc.gsa@ucalgary.ca
Webpage
Keira Gunn - AVP Labour
Equity, Diversity, and Inclusion Committee
The GSA is committed to advocating on behalf of equity seeking groups including women, Indigenous peoples, racialized individuals, persons with disabilities, and LGBTQ2S+. The GSA EDI committee will work to amplify the voices of oppressed groups, bring awareness to issues, and improve equity, diversity, and inclusion within the GSA itself.
edi.gsa@ucalgary.ca
Benedicta Antepim, 2022-23 Chair
Neha Bhatia, 2022-23 Vice Chair (Student life)
Marcus Young, 2022-23 Vice Chair (Advocacy )
Webpage: gsa.ucalgary.ca/edicommittee
Advocacy Engagement Working Group (2022)
The purpose of the Advocacy Engagement Working Group is to promote awareness and working understanding of the lanes of advocacy available to graduate students as members of the GSA and wider campus community. This working group is still in development and intended to work closely with the VP External and rest of the GSA's advocacy team. Seeder ideas for projects include educational workshops and town halls, organizing campaign engagement events, and generally empowering student voices on campus.
Jessica Meyer, 2022-23 Chair
Ad-Hoc Working Group (2022)
The purpose of the Ad-Hoc Working Group is to conduct research and advise the GSA's advocacy team related to issues of student needs and priorities. Expected duties involve creating status reports on political situations, analyzing the impacts of current policies on students, and helping to advise the advocacy team with data and talking points for political meetings. Campaign goals for the upcoming year include researching food and housing security on campus, defining post-secondary education issues and drafting policies for the anticipated provincial election.
---
Committee Structure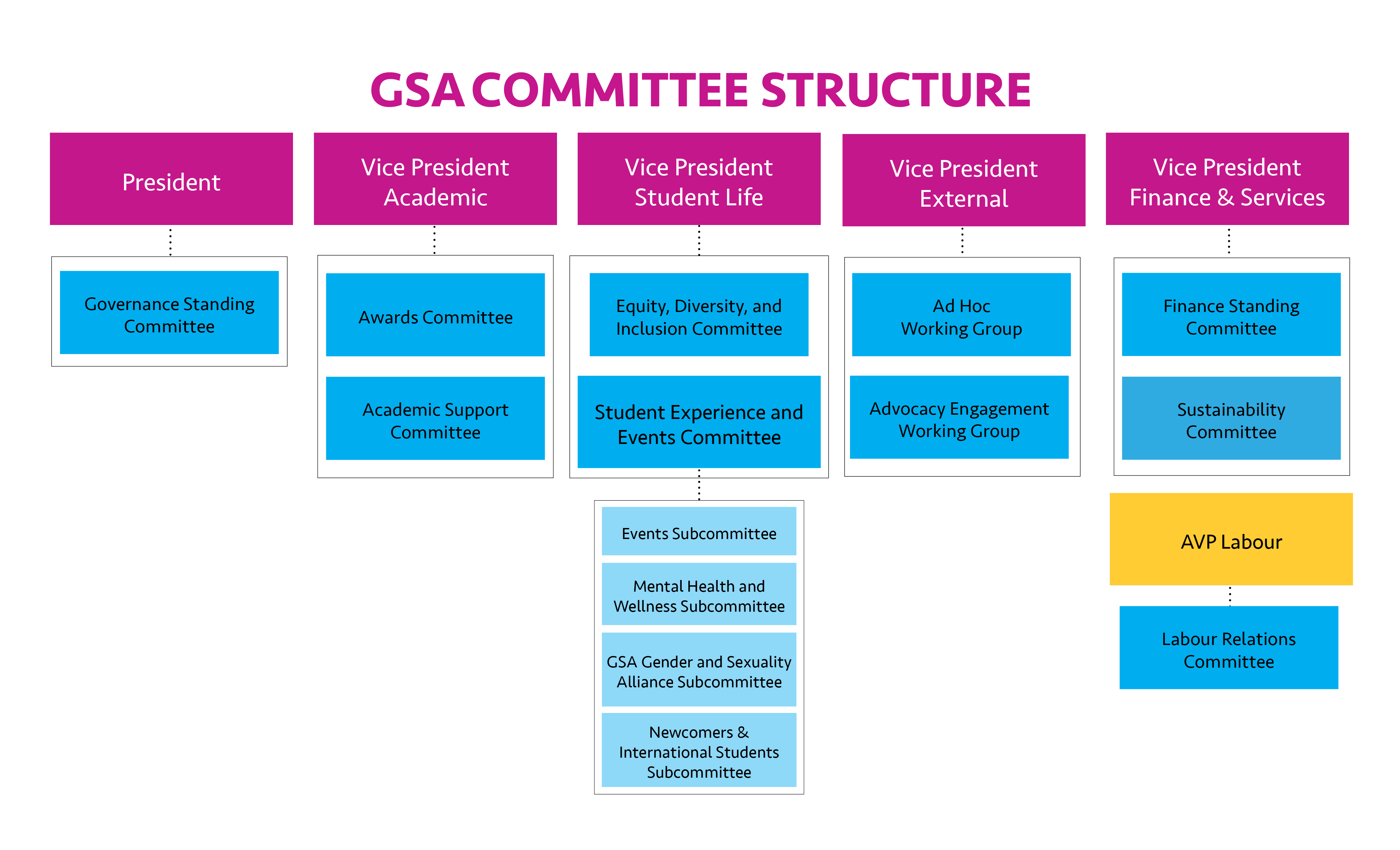 ---
Introducing 2022-2023 Senior Leadership Team
The GSA has 8 committees and 4 subcommittees that work diligently to carry out initiatives and host events to improve the graduate student experience at the University of Calgary. The Chairs and Vice Chairs of these committees and subcommittees together with the Board of Directors, Chief Returning Officer, GRC Speaker, GRC Clerk, AVP Labour, and GSA Executive Director make up the Senior Leadership Team which acts as an advisory body for the GSA Board of Directors.
The GSA is excited to introduce this year's Senior Leadership Team members who are committed to providing collaborative, consultative guidance for the GSA this year.
Read more about them here