GSA Elections
---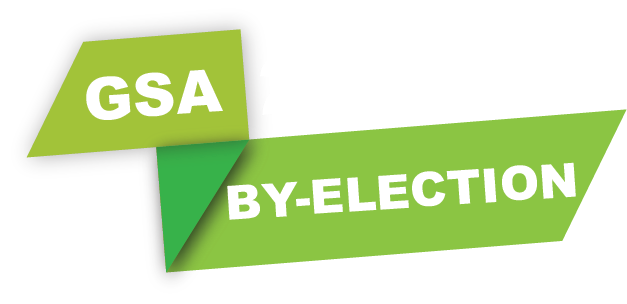 Below are the three candidates participating in this By-election. Click on their names to see their platforms.
The Graduate Students' Association (GSA) will be holding a By-election to fill a vacancy in the following position: Vice President Finance and Services
Any Active Member of the GSA may run for one (1) position. (Please see GSA Bylaws article 4.2 for a description on Active Members.)
If you have questions, please contact the GSA's Chief Returning Officer (CRO) at  and the GSA's Governance and Services Coordinator.
The Graduate Students' Association of the University of Calgary by-election shall be governed in accordance with the GSA's Bylaws article 14 & 15.
Important By-elections Dates
Friday, April 3 – Official Announcement of By-Election for the VP Finance and Services role
Friday, April 3 – Nominations open (9:00 am)
Friday, April 17 – Nominations close (4:30 pm)
Monday, April 20 – Nominees are notified by 12:00 pm (noon)
Monday, April 20 – All Candidates Campaign Meeting (mandatory) (2:00 – 3:00 pm Zoom meeting)
Tuesday, April 21 – Candidate platforms due to CRO (1:00 pm)
Wednesday, April 22 – Campaigning begins (9:00 am)
Tuesday, April 28 – Campaigning ends (5:00 pm)
Tuesday, April 28 – By-Election Forum during Virtual GRC Meeting (5:30 pm). Please email governance.gsa@ucalgary.ca for access link.
Tuesday, April 28 – By-Election Vote by GRC Representatives
Tuesday, April 28 – Provisional By-election results announced
Friday, May 1 – Elected Executive Starts Position
IMPORTANT BY-ELECTION DOCUMENTS:
About VP Finance and Services position
Expected commitment: 20-30 hours per week
The VP Finance and Services is responsible for overseeing the financial operations of the Graduate Students' Association (GSA) and the services it provides. The VP Finance and Services is a voting member of the GSA's Board of Directors and helps enforce the by- laws of the organization. The VP Finance & Services is expected to be in the GSA office 10-15 hours per week.
See more details in the Board of Directors Position Descriptions document.
Want to run for a GSA Executive position?
---
A GSA executive position can be incredibly rewarding. Executives build invaluable professional experience and expand their network by leaps and bounds.
Executive positions also receive a fellowship, contact an Executive or the CRO to learn more details!
Follow these recommended steps before you take the leap and run for an executive position:
Talk to an executive member
Contact our President or VPs and schedule a meeting to talk about your interest in the role. Any of our executive would be happy to discuss their position, and what is involved in the job.
Attend a Graduate Representative Council (GRC) meeting

GRC meetings generally happen on the last Tuesday of every month from October to May and are open to all graduate students. These meetings are filled with information on what the GSA does and how the executive members serve our students.
Talk to your supervisor
This is very important. An executive position is a big commitment and your supervisor should know about your interest in running and how this may affect your schedule.
Volunteer with the GSA
Nothing will give you more insight into the GSA than volunteering with the organization. Whether it's sitting on one of our many committees, or helping out with an event, we'd welcome your support!
Hear about past GSA Executive experiences!