GSA Elections
---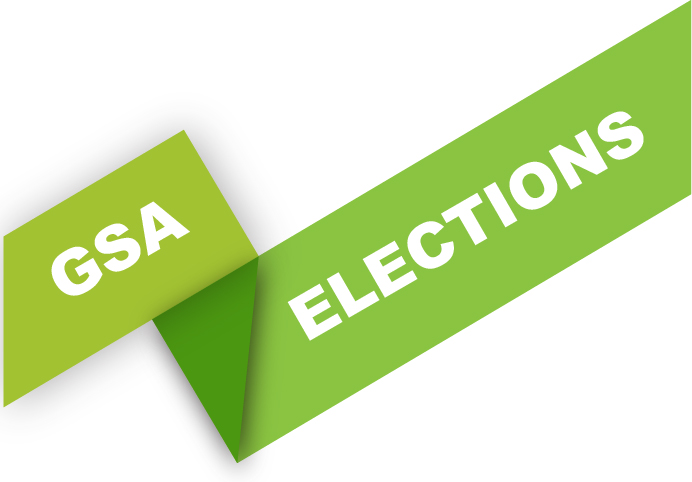 IMPORTANT ELECTION DATES:
February 3 – Nominations Open (12:30 pm)

February 3 – 14 – Nomination Period

February 14 – Nominations Close (4:30 pm)

February 19 – All Candidates Campaign Meeting (11:00 am – 1:00 pm)

February 20 – Candidate platforms due to CRO (1:00 pm)

February 21 – Campaigning Begins (1 pm)

February 25 – Election Forum before GRC Meeting (4:30 – 5:30 pm MT)

March  6 – Campaigning Ends (11:59 pm)

March 9 & March 10 – Voting days

March 11 – Election provisional announcements (Last Defence Lounge, 5 – 6pm)
CANDIDATES PLATFORMS:
---
PRESIDENT
---
VICE PRESIDENT ACADEMIC
---
VICE PRESIDENT EXTERNAL
---
VICE PRESIDENT STUDENT LIFE
---
ASSOCIATE VICE PRESIDENT LABOUR/CHAIR
IMPORTANT ELECTIONS DOCUMENTS:
A GSA executive position can be incredibly rewarding. Executives build invaluable professional experience and expand their network by leaps and bounds.
Executive positions also receive a fellowship, contact an Executive or the CRO to learn more details!
Follow these recommended steps before you take the leap and run for an executive position:
Want to run for a GSA Executive position?
---
Talk to an executive member
Contact our President or VPs and schedule a meeting to talk about your interest in the role. Any of our executive would be happy to discuss their position, and what is involved in the job.
Attend a Graduate Representative Council (GRC) meeting

GRC meetings generally happen on the last Tuesday of every month from October to May and are open to all graduate students. These meetings are filled with information on what the GSA does and how the executive members serve our students.
Talk to your supervisor
This is very important. An executive position is a big commitment and your supervisor should know about your interest in running and how this may affect your schedule.
Volunteer with the GSA
Nothing will give you more insight into the GSA than volunteering with the organization. Whether it's sitting on one of our many committees, or helping out with an event, we'd welcome your support!
Hear about past GSA Executive experiences!