Mental Health and Wellness Resources

---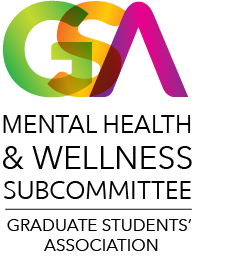 Keen to help build a supportive environment on campus for mental health? Join our team of graduate student volunteers! Most of us understand how tough it is in grad school and are part of this team to help others through the tough times. Here's what we're up to:
Empower Me – Mental Health Resources 
Students covered by the GSA Health Plan have access to Empower Me—a mental health and wellness service that seeks to contribute to a resilient student community by supporting existing on-campus and Studentcare mental health resources.
Empower Me allows students to connect with qualified counsellors, consultants, and life coaches for a variety of issues. As a student covered by the GSA Health Plan, you're entitled to sessions delivered in person, by telephone, by video-counselling, or by e-counselling.
Using Empower Me
You can always contact an Empower Me professional—no issue is too big or too small. Though Empower Me counsellors are qualified to support students in crisis, you don't need to be in crisis in order to take advantage of the service.
You can get support for issues of any kind, including relationships, family care, depression, anxiety, addictions, stress, work conflicts, and much more. Empower Me also offers a full suite of academic life services, such as life coaching, financial planning, and nutritional counselling.
Connect with Empower Me
Call 1-833-628-5589 to be connected right away or to be matched with a counsellor, consultant, or life coach on a variety of issues. You can also connect with Empower Me through the EAP Optima mobile app, available for download from the App Store and Google Play.  To create your account on the app, use this access code: 45295QG40
For international students who are having difficulties getting through, or if you are in countries other than the ones with numbers that can get in contact directly through the call center, please email callcenter@optimaglobalhealth.com
More Questions?
Check out the FAQ here.