Mental Health and Wellness Resources

---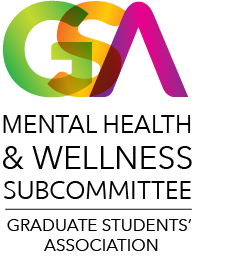 Keen to help build a supportive environment on campus for mental health? Join our team of graduate student volunteers! Most of us understand how tough it is in grad school and are part of this team to help others through the tough times. Here's what we're up to:
Empower Me – Mental Health Resources 
Students covered by the GSA Health Plan have access to Empower Me—a mental health and wellness service that seeks to contribute to a resilient student community by supporting existing on-campus and Studentcare mental health resources.
Empower Me allows students to connect with qualified counsellors, consultants, and life coaches for a variety of issues. As a student covered by the GSA Health Plan, you're entitled to sessions delivered in person, by telephone, by video-counselling, or by e-counselling.
Empower Me is:
Available 24/7, 365 days per year
Confidential
Multilingual
Culturally sensitive
Gender inclusive
Faith inclusive
Using Empower Me
You can always contact an Empower Me professional—no issue is too big or too small. Though Empower Me counsellors are qualified to support students in crisis, you don't need to be in crisis in order to take advantage of the service.
You can get support for issues of any kind, including relationships, family care, depression, anxiety, addictions, stress, work conflicts, and much more. Empower Me also offers a full suite of academic life services, such as life coaching, financial planning, and nutritional counselling.
Connect with Empower Me
Call the 24/7 helpline at 1-844-741-6389 from anywhere in North America to be directly connected to a trained counsellor—the person answering the phone is not an operator, administrator, or receptionist.
Log in to the Empower Me website and use "Studentcare" as the password.
Download additional Empower Me student assistance tools on the iAspiria mobile app. Enter "Studentcare" as the Login ID and select "Student" in the drop-down menu.
More Questions?
Check out the FAQ here.
Outreach and Awareness
– Paint parties!
– Pet therapy with PALS
– Outclimb the Stigma, with the Outdoor Centre
– Cooking and Nutrition, with Campus Community Kitchen and the Wellness Centre
– DeStress Week! Care packages for grad students before the exams
Peer Support and Learning
– Survive and Thrive, a small-group network with registered psychologists at the Wellness Centre
– Anxiety Management, a small-group intensive workshop series with registered psychologists at the Wellness Centre
– Mental Health Leadership Award, a new badge program issued by the GSA Mental Health and Wellness Subcommittee, with the support of our partners the Wellness Centre and the Taylor Institute. This digital badge goes on your resume and recognizes the critical skills you have developed from >20 hours of mental health training and real-world applications.
Contact
Like our Facebook page to keep updated on what's happening: www.facebook.com/mhealthwellness
If you're interested to volunteer, email us at wellness.gsa@ucalgary.ca to find out more!
Resources
• Keeping Mentally Healthy! Resources List – Aug 2018 updated
• Helpful on – and off – campus resources for UCalgary Graduate Students
• Our partners in StudentCare also offer a range of services and resources for Mental health. You learn can more about their services by accessing their website at www.studentcare.ca/talkitout