Mental Health and Wellness Resources

---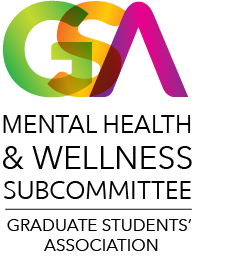 Keen to help build a supportive environment on campus for mental health? Join our team of graduate student volunteers! Most of us understand how tough it is in grad school and are part of this team to help others through the tough times. Here's what we're up to:
Outreach and Awareness
– Paint parties!
– Pet therapy with PALS
– Outclimb the Stigma, with the Outdoor Centre
– Cooking and Nutrition, with Campus Community Kitchen and the Wellness Centre
– DeStress Week! Care packages for grad students before the exams
Peer Support and Learning
– Survive and Thrive, a small-group network with registered psychologists at the Wellness Centre
– Anxiety Management, a small-group intensive workshop series with registered psychologists at the Wellness Centre
– Mental Health Leadership Award, a new badge program issued by the GSA Mental Health and Wellness Subcommittee, with the support of our partners the Wellness Centre and the Taylor Institute. This digital badge goes on your resume and recognizes the critical skills you have developed from >20 hours of mental health training and real-world applications.
Contact
Like our Facebook page to keep updated on what's happening: www.facebook.com/mhealthwellness
If you're interested to volunteer, email us at wellness.gsa@ucalgary.ca to find out more!
Resources
• Keeping Mentally Healthy! Resources List – Aug 2018 updated
• Helpful on – and off – campus resources for UCalgary Graduate Students
• Our partners in StudentCare also offer a range of services and resources for Mental health. You learn can more about their services by accessing their website at www.studentcare.ca/talkitout