GSA EDI Committee Senior Leadership Team
Evangelina Natynczyk (she/her)
GSA EDI Committee Chair, 2021-2022
Portfolio:
All GSA EDI Committee affairs and operations
Terms of Reference
Advocacy, student experience, and events
Amplifying graduate student voices to the GSA Board of Directors and staff, and the broader UCalgary graduate student community
Supporting Vice-Chairs as needed
Goals:
Developing and approving the Terms of Reference
Securing funding and an external GSA audit
Improving communication, advocacy, student experience, and events through resources, training, and collaborations
Connecting with other equity-seeking and deserving groups and working with the GSA to improve policies and procedures
Prioritizing team development and providing access to books and training
Creating resources
Launching social media platforms and updating the website
Inaugurating a graduate student EDI conference
"Welcome to the brave spaces. EDI [equity, diversity, and inclusion] work helps us reimage our world by encouraging us to be active, flexible, vulnerable, and above all, human." – Evangelina Natynczyk
Hola / Hello! My name is Evangelina Natynczyk, and I am the inaugural Chair of the Graduate Students' Association (GSA) Equity, Diversity, and Inclusion (EDI) Committee at the University of Calgary for 2021-2022! I am completing my MA in Sociology, where my research explores the intersection of social identities, EDI language, and related activism. Serving under several UCalgary graduate student-led groups, committees, and leadership positions, including my position as Chair of the Sociology Graduate Student Caucus, fuels my passion for the EDI space. I am passionate about building and bridging EDI spaces and speaking on issues related to anti-racism, anti-oppression, intersectional and critical social approaches, and social justice within the UCalgary community and the broader community.
I joined the EDI Committee in 2020 when it was formed in hopes of co-creating and providing consistent, transparent, and necessary EDI work on behalf of graduate students. My vision and mission have been to enhance the graduate student experience through a holistic approach, advocacy, and creating equitable opportunities for the graduate student community, so that all students feel represented, accepted, supported, engaged, and empowered to succeed. In the 2021-2022 year, I worked closely with the GSA Board of Directors, staff, Vice-Chairs and members, graduate students' groups in the EDI space, and the broader community to make positive changes. Together we developed policies and procedures (Terms of Reference + EDI Guidelines), organized student life and advocacy events (Global Conversations + Advocacy 101 + Intersectionality Workshop Series), and provided resources (4 books), education, and training (EDI + Unconscious Bias). One of the highlights for me this year was initiating the EDI section in the GSA's Peer Beyond Graduate Research Conference, which recognizes graduate students involved in EDI work and research. It has been an honour serving the GSA EDI Committee, supporting a safe and respectful space for diverse voices and perspectives, and securing an EDI audit for the GSA. I am proud of all of our collective work, and I am rooting for all the brilliant social changemakers that I have met along the way.
Emily Wuerch (she/her)
GSA EDI Committee Vice-Chair (Advocacy), 2021-2022
Portfolio:
Advocacy
Supporting Chair as needed
Goals:
Advocacy: Encouraging all students to become advocates on behalf of themselves or others
Outreach: Building partnerships with and creating meaningful opportunities for existing advocates
My name is Emily, and I am the Vice-Chair (Advocacy) of the EDI Committee for 2021-2022! I'm originally from Ontario, where I completed my BSc in Biology and Psychology, Neuroscience & Behaviour at McMaster University. I then moved to Calgary to pursue my PhD in Neuroscience, where my research examines the effect of combining immune-modifying therapies with exercise in a model of multiple sclerosis. I was first motivated to join the EDI committee because after moving to Calgary, I quickly realized that the diversity seen in our city is not always represented in our graduate student body, and that many groups face unseen barriers and struggle to achieve representation, particularly in academia. One of the highlights for me this year was our Advocacy 101 event hosted in February, which aimed to promote advocacy and provide practical tips to individuals that are new to the EDI space.
GSA EDI Committee Member Highlights
Karina Hincapie (she/her)
GSA EDI Committee Member, 2021-2022
I am a PhD student in the School of Languages, Linguistics, Literature and Culture. My research focuses on interactions of adolescents in recent Latin American films using the Affect theories as a mechanism of reflection around vulnerability and belonging. I also hold an Erasmus Mundus Joint Master's degree in Cultural Narratives. My passion is to work with justice seeking communities to develop initiatives that can impact society for good. Hence, I was a Research Fellow at the Language Research Centre (UofC) and participated in developing the "Digital Storytelling Festival" which sought to empower immigrant communities in our city. Currently, I am a Fellow at the CIH, and I will be working this summer with Esker Foundation for the project "Youth Engagement and Decolonizing Gallery Space".
I have been a member of the EDI Committee since it started in 2020. I initially volunteered because I wanted to strengthen the involvement and representation of racialized communities in the Graduate Students' Association. As a student focusing on Latin-American philosophy and culture, I saw the need for looking at EDI as a critical praxis, to avoid inherently flawed structures that can mimic white-centered patterns of privilege and domination. I enjoy working with the team and appreciate the foundations we have developed together. Next year I am looking forward to our committee making solid connections with racialized and vulnerable populations and other equity and diversity groups at UofC so we can improve as a committee and work collectively to foster solidarity across campus.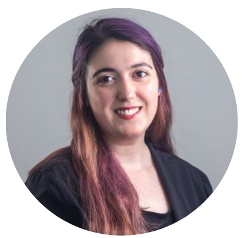 Nilüfer Hasanova (she/her)
GSA EDI Committee Member, 2021-2022
My name is Nilüfer, and I am a volunteer with GSA EDI Committee. I am a current Master of Public Policy student at the School of Public Policy. I joined the EDI committee, as to me, EDI should never be a buzzword, but an active effort into ensuring everyone on our campus feels safe, welcome, and included regardless of their identity, or background. As an immigrant to Canada, I know how it feels to be excluded from certain spaces while recognizing all the privileges I also hold. I felt as though my work with the immigrant community in Calgary was a perspective, I wanted to bring with me, yet I also wanted to learn from the diverse set of experiences of my fellow committee members. A highlight of volunteering with this committee was being an EDI judge at the Peer Beyond conference. As someone with a health research background, it is extremely important to have EDI in research spaces, especially when historically, much of research has excluded the experiences of visible minorities.
Randip Dhaliwal (she/her)
GSA EDI Committee Member, 2021-2022
I am a thesis-based Master of Nursing student at the University of Calgary. My research is aimed at understanding the experience of anticipatory grief among terminally ill palliative care patients. I am passionate about equity, diversity, and inclusion and volunteer with a multitude of organizations to promote adequate representation of equity-deserving groups within academia. I began volunteering for the Graduate Students' Association (GSA) Equity, Diversity, and Inclusion (EDI) committee because I recognized there were very few faculty or staff that resonated with my experiences as a visible minority. As the daughter of an immigrant, I witnessed my mother (also a registered nurse prior to immigrating to Canada) face unfathomable challenges due to her complexion, English proficiency, and gender. Joining the EDI committee is a way for me to honour my mother's experiences. I acknowledge that although we have seen improvements in the treatment of equity-deserving groups, we have a long way to go. In addition to my EDI involvement, I have been recognized by the University of Calgary and Alberta Health Services as an advocate and champion for mental health initiatives. In my free time, I enjoy painting, yoga, running, hiking, and watching reruns of The Office.
Selina Viktor Robson (they/them)
GSA EDI Committee Member, 2021-2022
I'm a fourth year PhD candidate in the Department of Biological Sciences, specializing in mammalian evolution and paleontology. I grew up in Oregon (USA), but I've been living in Calgary for the past six years while completing my MSc and now my PhD. I first became involved with UCalgary EDI activities in the context of addressing racism and colonialism, and other forms of discrimination, in the natural sciences. When the GSA EDI Committee was formed, I volunteered with the hope that I might be able to help the Committee in its efforts to make the University a safer, more accepting, and equitable community. Among other actions this past year, we have been involved in hosting student life and advocacy events, we have sought out and provided EDI resources for the University community, and we are in the process of arranging an EDI audit for the GSA. It has been an honour and pleasure serving with the other members of the EDI Committee, all of whom are dedicated students working to advocate for awareness and change in the University.
ARE YOU A GRADUATE STUDENT LOOKING FOR VOLUNTEER OPPORTUNITIES?
Participate in the GSA Volunteer Recruitment Program! When you complete and send your Volunteer Application Form, we will contact you and let you know about opportunities as they arise.