#UCalgaryGradStudents, although the weather is cold and, unfortunately, winter started strong with 35 cm of snow in October and today, it does not mean you should stay at home or in your office. You should still try to enjoy life, get out of your home and office, even if you are a graduate student. -10, -20, -30, and even -40 degrees  Celsius are just numbers, they should not take control of your life. Winter can be cold in Calgary, but it is not as cold as it seems, it is only as cold as you believe it is.
Now, as I justified that the winter is not that cold in Calgary, and I assume you believe me, let's make plans to do more.
First, check the GSA's Events page, we have a lot of awesome events happening all winter long as you can see here. This page gives you many event options to help you get out of your home or office during the long winter months, for example, snow tubing, skiing 101, and Lake Louise trip.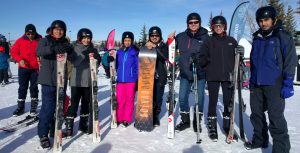 Second, consider outdoor winter activities, as we will have a long lovely winter here.
The first, and maybe cheapest, option is a hike. Yes, you read right, a hike! In -30 degrees!? Yes, anytime. There are a couple of hikers who go hiking even in the winter and you can easily find them on the meet up website. Please don't forget safety, it should always come first.
Skiing and snowboarding are the other options. Are they expensive? No, they are not. You can buy second-hand gear for less than $100 or rent from the UCalgary's Outdoor Centre. Additionally, the GSA provides discounted lift tickets at a 30% discount. Keep your eyes open and check out our website soon for these deals.
When you are active, having robust insurance is highly important. The GSA helps you take care of this, with our Health and Dental plan! Check out the coverage details here.
That is enough fun! Last but not least, let's talk a little about your professional development. If you are an international student and you need to improve your language skills, visit the UCalgary's Student Success Centre. They have many workshops, offer one-on-one mentor appointments for writing, and other helpful services. Most services are free for graduate students.
In conclusion, graduate students, please make plan to stay active. Don't make the weather an excuse for staying at home or in office this winter!
Regards,
Mohammad Mansouri
PhD student in Electrical Engineering
2018 – 2019 GSA VP Finance and Services