2021 Images of Research Competition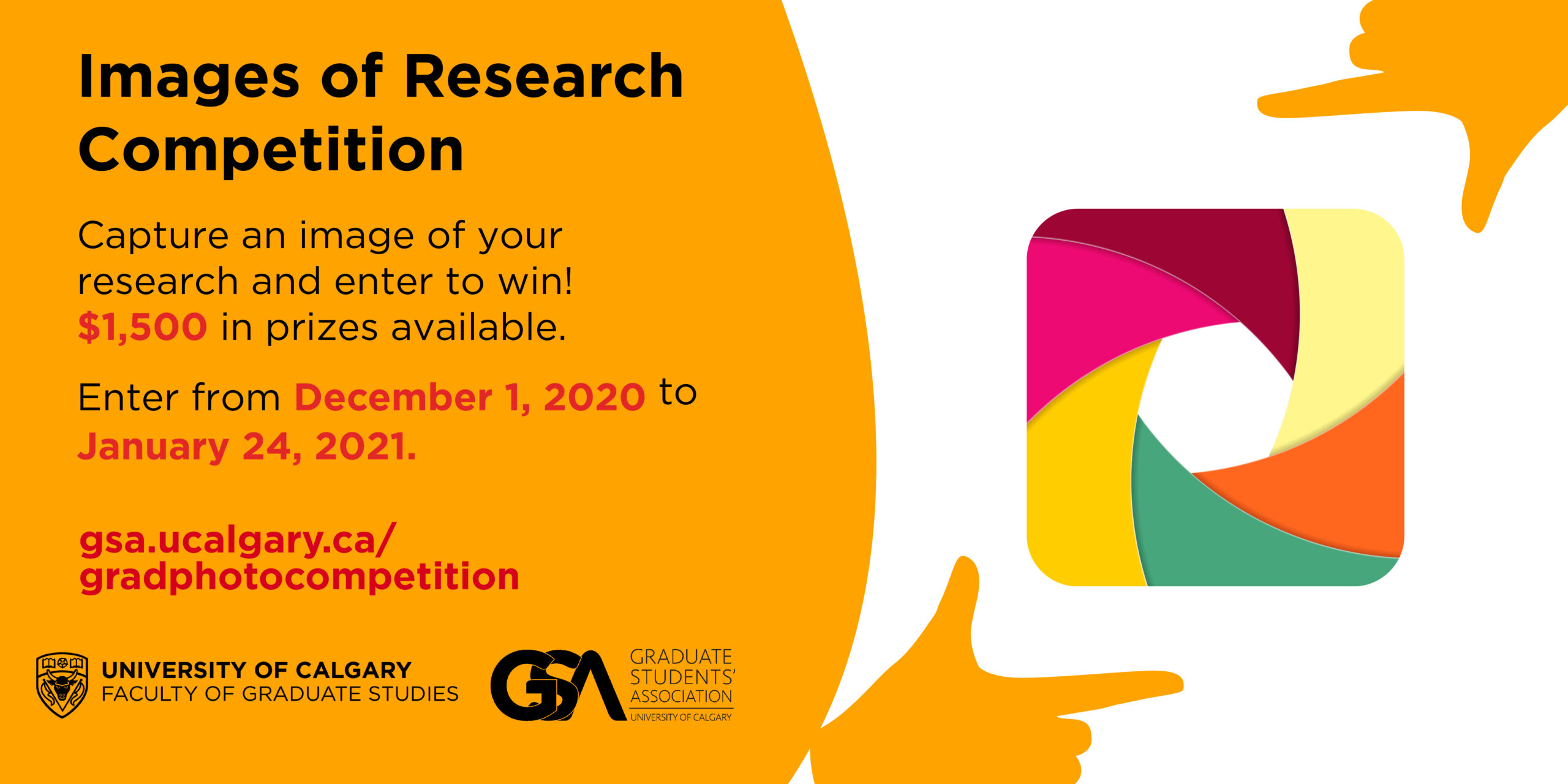 About the Competition
Unleash your inner photographer and tell a story that showcases the impact of your research in the 2021 UCalgary Images of Research Competition. The Faculty of Graduate Studies and Graduate Students' Association are excited to provide you with an opportunity to undergo a transformative experience; exploring new ways of thinking about your research, its value, and how it can be presented to an audience outside of your research domain. Also, it's a great opportunity to win cash prizes and have your research presented to a wider community!
To participate, graduate students are challenged to capture an image that showcases their research and write two abstracts (one for a general audience and another for a technical audience) to complement the image as well as describe their research and its impact.
Registration is open December 1, 2020- January 24, 2021. Students have until January 31st at 11:59 pm to make their image and abstract submissions.
Register for the Competition HERE
---
Awards Announcement
CONGRATULATIONS TO OUR WINNERS:
Top Overall Winner:
"The spiral Down of Homeless in Calgary. Inclusive Affordable Housing, the way Up?" by Vincent Yong, Master's student in Environmental Design
STEM category:
1st runner-up:
"Dogs and coyotes sharing more than a common environment" by Karla Barcenas Barreto, Master's student in Biological Sciences.
2nd runner-up:
"Finding the way back home: tracking an endangered bat in the Rocky Mountains" by Emma Micalizzi, Master's student in Biological Sciences
3rd runner-up:
"Brains develop in many shapes and sizes" by Madison Long, PhD student in Neuroscience
Social Sciences/Humanity/Creative Category:
1st runner-up:
"Women orphans of a nation: Refugees memories through amateur lens" by Amanda Zanco, Master's student in Communication, Media and Film
2nd runner-up:
"Poetic Architectural Drawing" by Mohammad Moezzi, PhD student in Environmental Design
3rd runner-up:
"Floating Between Truth and Fiction (An Inquiry into Spatial Perception)" by Hesamaddin Rezaei, Master's student in Fine Art
People's Choice Award:
"The Colors of Emulsification" by Hector Bonilla, PhD Student in Chemical and Petroleum Engineering
"Nano-scale dopamine polymer forms kirigami like pattern under the UV-light" by Sultan Khetani, PhD Student
---
Awards and Prizes
Student entries will be split into two groups - STEM and HAS. A panel of judges will select 5 winners: an overall winner for all entries, a first-place runner up for the STEM and HAS groups each and a second runner up from the STEM and HAS groups each. There will also be a People's Choice winner chosen by the public via Facebook 'likes" on the FGS Facebook page. The winners will be announced on March 5, 2021 and will receive their monetary prizes around March 25th. Awards and prizes are provided by FGS.
Monetary awards:
OVERALL WINNER $500

1st runner-up [STEM] $300

1st runner-up [HAS] $300

2nd runner-up [STEM] $150

2nd runner-up [HAS] $150

OVERALL PEOPLE's CHOICE $100
*STEM programs are those that are Science, Technology, Engineering and Mathematics focused. HAS programs are in the Humanities, Arts and Social Sciences. Participants will self select STEM or HAS as their research focus as a part of the registration.
Non- monetary awards:
The images will also be used online (social media and/or the website) to further disseminate the winners' research and help future students learn. Students may also be invited to other events to speak, network and continue to share their research.
---
How It Works
The contest is open to all UCalgary graduate students in both thesis- and course-based programs. To be considered in the contest, all submissions must be:
Original, unpublished image (Please note: images such as computer-generated or electron microscopy images are accepted. Images of art such as paintings may be submitted, but must be arranged with purpose and follow judging criteria.)
Taken by the student submitting the image
Digital, high resolution images in JPEG format (3300 x 4200 pixels minimum and 300 dpi)
Printable as 11x14" prints (entries must be cropped to final size before submitting)
File size smaller than 12 MB
Graduate students can submit a maximum of one image per competition year. In addition to your image submission, you are required to provide two abstracts:
a technical abstract, written for those familiar with your field of research, describing your image and how it relates to your thesis research or course of study (maximum 1,200 characters including spaces)
a general public abstract (jargon-free and public-friendly language) which describes your image and how it relates to your thesis research or course of study (maximum 1,200 characters including spaces).

The two abstracts are expected to pull from the same information but be different from each other.
Details of the competitions rules and regulations can be found HERE.
Contest rubric can be found HERE
---
Panel of Judges
Dr. Mary Anne Moser, PhD, CEO and President of TELUS Spark
Dr. Moser has built a career where art, culture and science intersect. She has worked as a journalist, an award-winning designer and was the founding editor of the Banff Centre Press. She started the Banff Science Communications Program in 2005, Canada's Iron Science Teacher competition in 2007 and is the editor of two books on science in society: Immersed in Technology (MIT Press 1995) and Science, She Loves Me (Banff Centre Press 2011). She was president and co-founder of Beakerhead, a major collaborative art, science and engineering spectacle, and now serves as CEO at the Calgary science centre, which operates as Telus Spark. Moser holds a BSc in zoology, a Master's degree in communications, and an interdisciplinary PhD. For her work in professionalizing the discipline of science communications, she has received as ASTech Award, an Arch Award from the University of Calgary, and an honourary doctorate from Mount Royal University.
Dr. Penny Pexman, PhD, Associate Vice-President (Research) of the University of Calgary
Dr. Pexman earned her PhD in Psychology at the University of Western Ontario in 1998 and joined the University of Calgary the same year. Her research expertise is in cognitive development, psycholinguistics, and cognitive neuroscience. For the past 2 decades her research has been funded by both SSHRC and NSERC, including NSERC's prestigious Discovery Accelerator Supplement in 2008. She has served on multiple national grant adjudication panels, including NSERC Discovery, Research Tools and Instruments, and Banting Postdoctoral Fellowship committees. Pexman was appointed the University of Calgary's SSHRC Leader in 2017 and in that role serves as a point of contact between SSHRC and the University of Calgary. An award-winning mentor and researcher, Pexman is an elected Fellow of both the Canadian Psychological Association and the Association for Psychological Science.
Melanie Kjorlien, Glenbow Museum VP Engagement and COO
Melanie Kjorlien has held several positions at Glenbow over the last 12 years, including Director of Knowledge Management, VP of Access, Collections and Exhibitions and now COO and VP, Engagement. Throughout her career, Melanie has been motivated by her genuine passion for art and culture and the value they bring to our communities. Melanie's background has encompassed journalism and media, website and digital project management, curating and teaching. Melanie is an award-winning writer and editor and has edited several publications on various aspects of Canadian art history.
Dr. Nima Najand, PhD, Innovate Calgary

As the Associate Director of Business Development for the Life Sciences Innovation Hub, Nima oversees the incubator space for the LSI Hub. He is the main point of contact for companies looking to access the shared labs and equipment available at the LSI Hub. He draws upon his extensive experience in health sciences and research commercialization to drive research from bench side to bedside.
Expertise and background:
University of Calgary Alumnus (Ph.D., Medical and Molecular Genetics)
Master's Degree (Medicine and Dentistry, Cell Biology), University of Alberta
B.Sc. (Honours), Molecular Genetics, University of Alberta
Licensing, Intellectual Property Valuation and Patent Strategy
Commercialization Strategy
---
Workshops and Resources
To support your learning and chances for success, we have partnered with the My GradSkills Team in Faculty of Graduate Studies to provide workshops, feedback sessions and a collection of written resources provided via D2L. Students will be able to sign up for feedback sessions and access the D2L site after they have registered for the competition. Registration for the workshops is currently open, you do not have to register for the competition to participate in the workshops:
---
Past Years' Submissions
Input your text here! The text element is intended for longform copy that could potentially include multiple paragraphs.