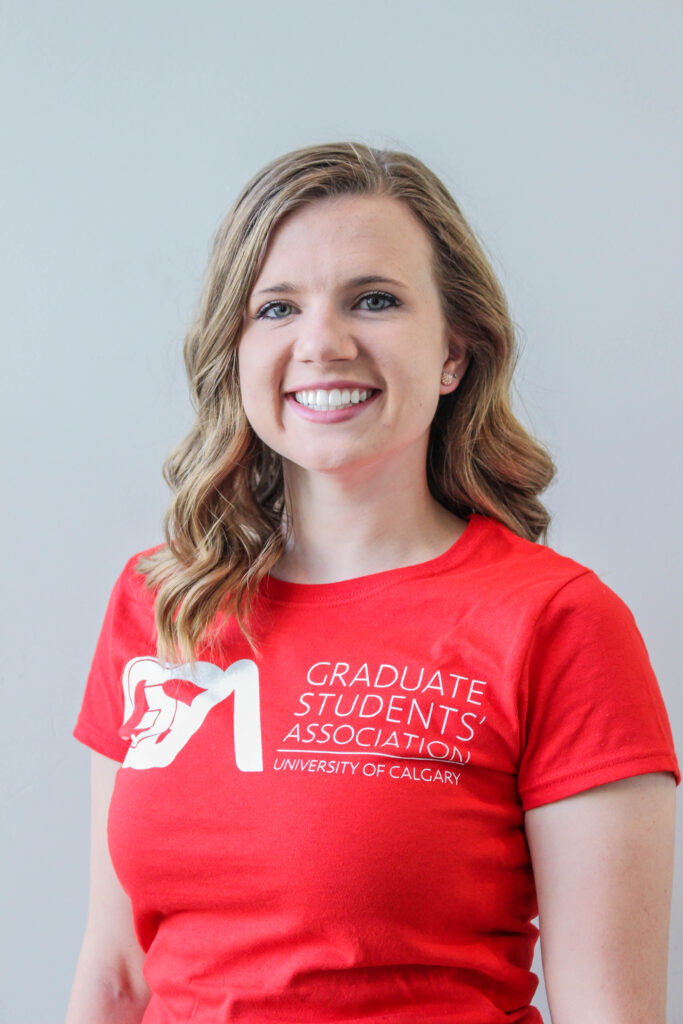 Tanille Shandro
President pres.gsa@ucalgary.ca
Growing up in Central Alberta, Tanille moved south to pursue a Bachelor of Science in Biochemistry from the University of Calgary, where she found her passion for research. She is currently pursuing a MSc in Biophysical Chemistry in the MacCallum Lab with research focusing on protein-small molecule binding interactions for biosensor development.
Portfolio:
GSA Bylaws & governing documents
All GSA affairs and operations
Collective Agreement
Your voice to the Board of Governors and governments
Committee: Governance Committee
Goals:
Improving Advocacy – Increase minimum funding policy with the Faculty of Graduate Studies; and actively collect student feedback regarding student experience as a result of the changes due to the global coronavirus disease (COVID-19) pandemic and advocate necessary changes to the University Administration
Improving Service Delivery – Expand service delivery to select groups using results of GSA annual survey
Improving Communication – Clearly communicate advocacy accomplishments with GSA members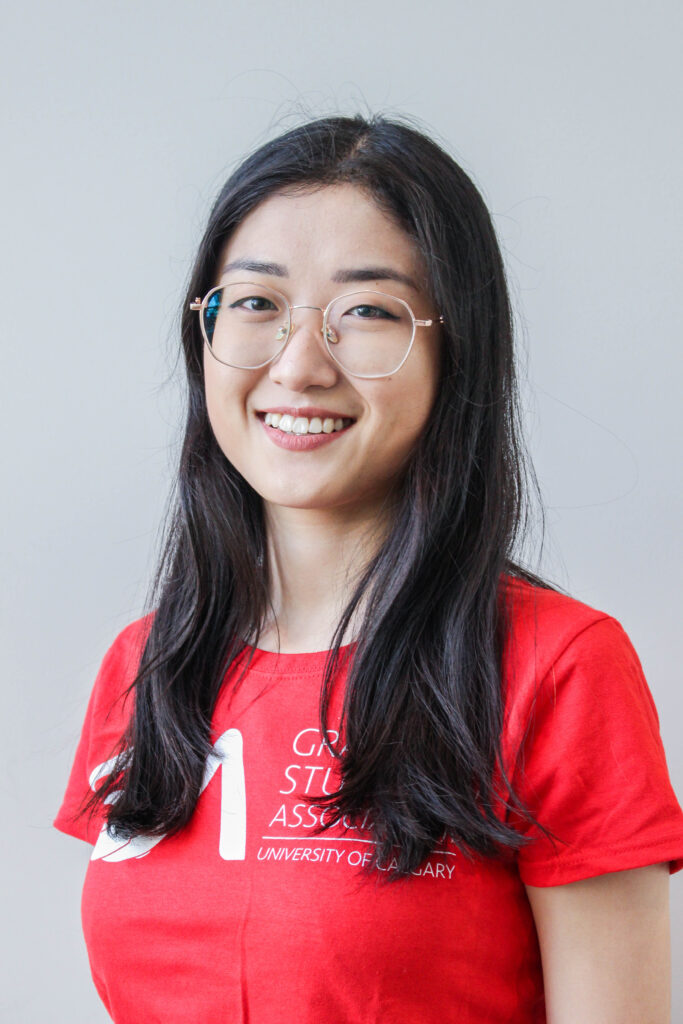 Mary Zhang
VP Student Life vpsl.gsa@ucalgary.ca
Mary is a Chinese international student pursuing a PhD degree in Geoscience currently. her research focuses on the geomechanical implications of free phase gas formation in the subsurface. As an international student, she has always valued events that create a closer and more involved community for students. Therefore, in the past few years of her time at UCalgary, she has been heavily involved in the management of student events with multiple organizations as a way of giving back to the student community.
Portfolio:
Events and discounted ticket sales
Departmental Graduate Students (DGAs) and Graduate Student Groups (GSGs)
Student experience
Committees: Student Experience and Events Committee, Mental Health and Wellness Subcommittee, GSA Gender and Sexuality Alliance Subcommitee (or GSA2), Events Subcommittee, Newcomers and International Students Subcommittee, Community Engagement Subcommittee
Goals:
Improving Advocacy – Increase participation rate of the Empower Me program to 100 people by a renewed campaign through different communication channels
Improving Service Delivery – Secure Commedia and event insurance agreements by September 2020 to better support DGAs and GSGs
Improving Communication – Sustain popular online events after COVID-19 to engage distance leaners and graduate students at the Foothills, downtown, Edmonton, and main campuses
Improving Organization Sustainability – Initiate sponsorship program and start to contact potential sponsors by December 2020
Kabita Baral
VP Finance & Services vpfs.gsa@ucalgary.ca
Kabita, originally from Nepal, is a first-year PhD student in the Department of Comparative Biology and Experimental Medicine, Department of Veterinary Medicine. She works on Bioinformatics side of project on Neural Stem Cells. She completed her undergraduate degree in Pharmaceutical Sciences from Nepal and Master's degree in Bioinformatics in Texas, USA.
Portfolio:
Health & Dental Plan (H&D)
Bursaries
Last Defence Lounge
Committees: Finance Committee, Sustainability Committee
Goals:
Improving Advocacy – Increase awareness of Studentcare's Empower Me service among Wellness Center counselors
Improving Service Delivery – Collaborate with Studentcare to understand students' needs and concerns related to COVID-19 and effectively communicate the insurer's COVID-19 response to students
Improving Communication – Ensure the awareness of updated information on the Health and Dental Plan by students, increase transparency in GSA budget handling by presenting to GRC members
Improving Organization Sustainability – Continue the project initiated by previous board to diversify GSA revenue sources
Christine Cao
VP External vpext.gsa@ucalgary.ca
Christine is a M.Sc. Student in the Department of Electrical & Computer Engineering, specializing in applied optimization in engineering education. She obtained her B.Sc. in Geomatics Engineering from the University of Calgary, and has past experience working as a software developer. From undergraduate to present, Christine has been very involved in student advocacy through different department councils, societies, and DGAs.
Portfolio:
Municipal, provincial, federal advocacy
External relations
External Advocacy Working Group
Goals: Improving Advocacy
Engage in meaningful consultations with all key stakeholders and GSA membership
Adopt a flexible and resilient approach to provide advocacy inputs during decision-making at all levels of the government, and assert GSA advocacy priorities, in order to expand the GSA's external collaborative network
Equity, Diversity, and Inclusion (EDI): Account for how diverse groups are affected by advocacy priorities and asks
Adopt a CASA campaign and showcase ab-GPAC work to the GSA membership
Alex Paquette
VP Academic vpa.gsa@ucalgary.ca
Alex is a PhD Candidate in the department of Geoscience. His research area combines microbiology, biochemistry and bioengineering. Alex received his M.Sc. in Cell and Systems Biology and B.Sc. in Life Science from the University of Toronto. He also has prior experience with the University of Toronto Mississauga's Graduate Student Association as Vice President Student Life and President.
Portfolio:
GSA awards and grants
Academic appeals and student issues
Workshops and professional development
Committees: Academic Support Committee, Awards Committee
Goals:
Improving Advocacy – Increase minimum funding policy with Faculty of Graduate Studies; Establish an award for graduate students with disabilities; and advocate for graduate students in all aspects of COVID-19 related situations
Improving Service Delivery – Improve the applications, ToRs and adjudication criteria for all of the GSA Awards; Improve the process of applying for GSA Awards; Create an online awards platform for GSA Awards; and Improve the Peer Beyond Symposium
Improving Communication – Establish a weekly communication piece highlighting the amazing work graduate students are doing at the University of Calgary
About the Graduate Students' Association of the University of Calgary:
The GSA is the voice of UCalgary graduate students and advocates on behalf of graduate students at the UCalgary and to the municipal, provincial, and federal governments. The GSA strives to support UCalgary graduate students to succeed academically and socially through valued programs, services, and responsive communication channels.
Keep up to date with the GSA updates via our website and social media: