May is Asian Heritage Month that is celebrated across Canada. The GSA joins in the celebration of Asian heritage to share a few works written by authors of Asian descent. This list is inspired by the 25 books to celebrate Asian Heritage Month in Canada by CBC Calgary.
INSTANT NATIONAL BESTSELLER
This delightful debut rom-com follows the adventures of a woman trying to connect with her South Asian roots and introduces readers to a memorable cast of characters in a veritable feast of food, family traditions, and fun.
Waking Occupations by Phoebe Wang
Waking Occupations is an urgent, essential collection that considers what we carry from previous generations and our liabilities to the cyclical nature of the work that uplifts us. (From Penguin Random House Canada)
Marvel's newest recruit shares his own inspiring and unexpected origin story, ranging from China to the bright lights of Hollywood. An immigrant who battled everything from parental expectations to cultural stereotypes, Simu Liu struggled to forge a path for himself, rising from the ashes of a failed accounting career (yes, you read that right) to become Shang-Chi.
We Have Always Been Here by Samra Habib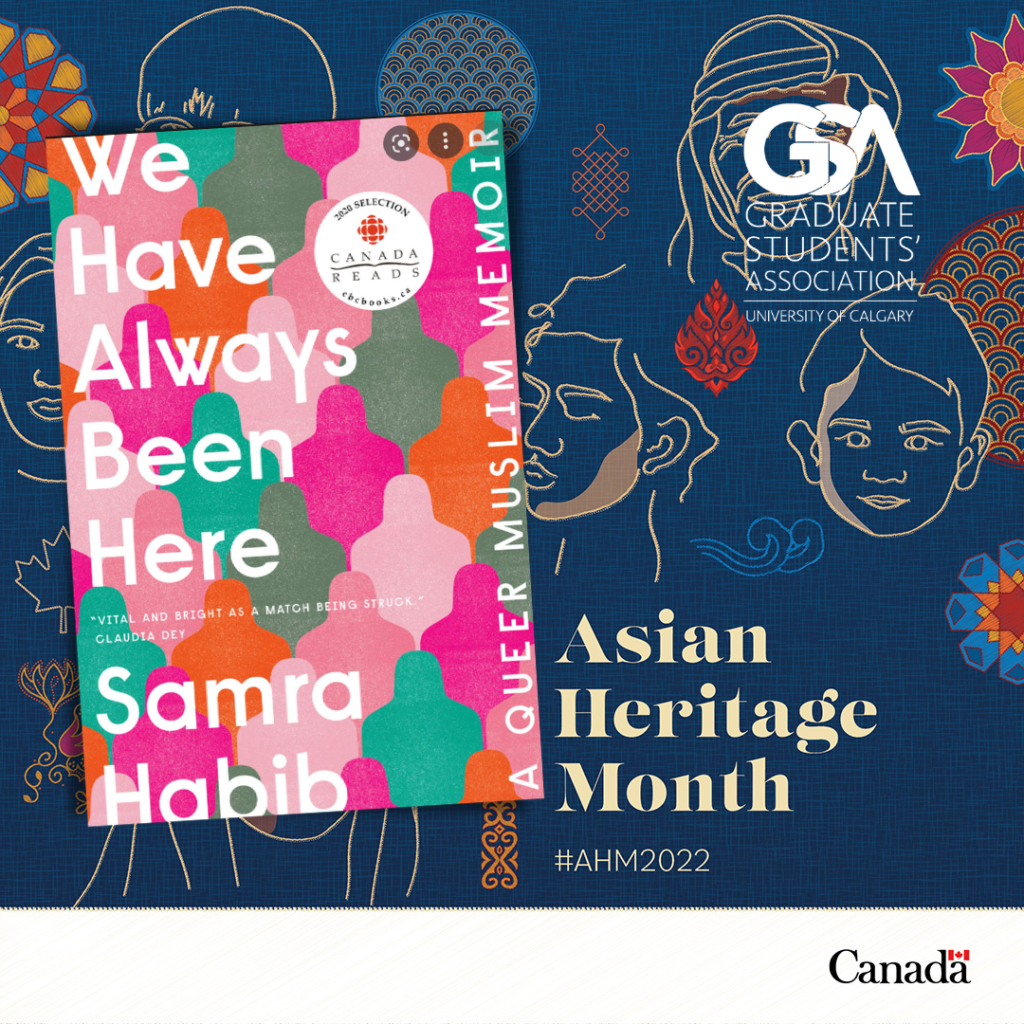 CANADA READS 2020 WINNER
NATIONAL BESTSELLER
2020 LAMBDA LITERARY AWARD WINNER
How do you find yourself when the world tells you that you don't exist?
Samra Habib has spent most of their life searching for the safety to be themself. As an Ahmadi Muslim growing up in Pakistan, they faced regular threats from Islamic extremists who believed the small, dynamic sect to be blasphemous. From their parents, they internalized the lesson that revealing their identity could put them in grave danger.
When their family came to Canada as refugees, Samra encountered a whole new host of challenges: bullies, racism, the threat of poverty, and an arranged marriage. Backed into a corner, their need for a safe space–in which to grow and nurture their creative, feminist spirit–became dire. The men in Samra's life wanted to police them, the women in their life had only shown them the example of pious obedience, and their body was a problem to be solved.
So begins an exploration of faith, art, love, and queer sexuality, a journey that takes them to the far reaches of the globe to uncover a truth that was within them all along. A triumphant memoir of forgiveness and family, both chosen and not, We Have Always Been Here is a rallying cry for anyone who has ever felt out of place and a testament to the power of fearlessly inhabiting one's truest self.
Local bookstores to find these books!